Hi all!  We'd like to share with you our new holiday themed patterns that are available now. 
For Halloween--or to use throughout fall-- we have a new quilt pattern featuring a black cat and pumpkin.  In this quilt pattern, Marilyn features a variety of orange fabrics for the pumpkin, creating a varied pinwheel texture.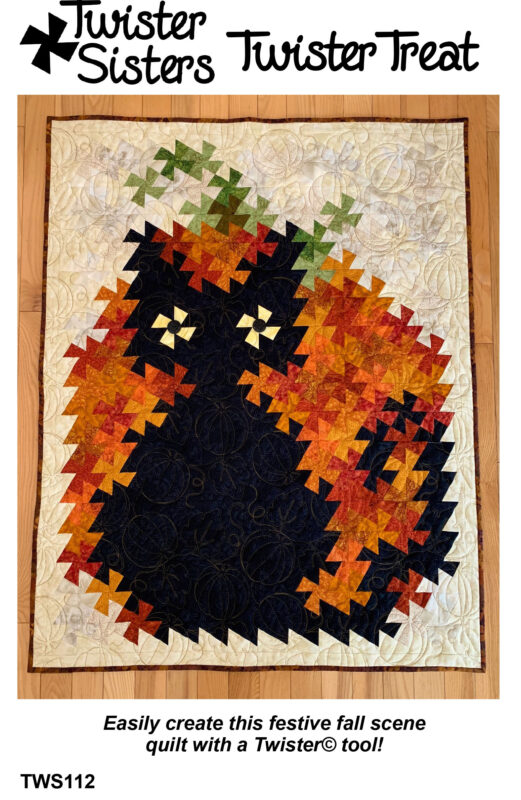 The quilt can be made in 3 sizes, depending on which tool you use.  With the Mini Twister tool, you can make a small quilt 34" x 43".  With the Lil' Twister tool, it makes a 45" x 57" quilt, and with the Midi Twister tool, you can make a 67" x 85" quilt.
You can twist your way on to Thanksgiving with A Thankful Twist table runner.  It's approximately 18" x 33-1/2" and is made with the Mini Twister tool.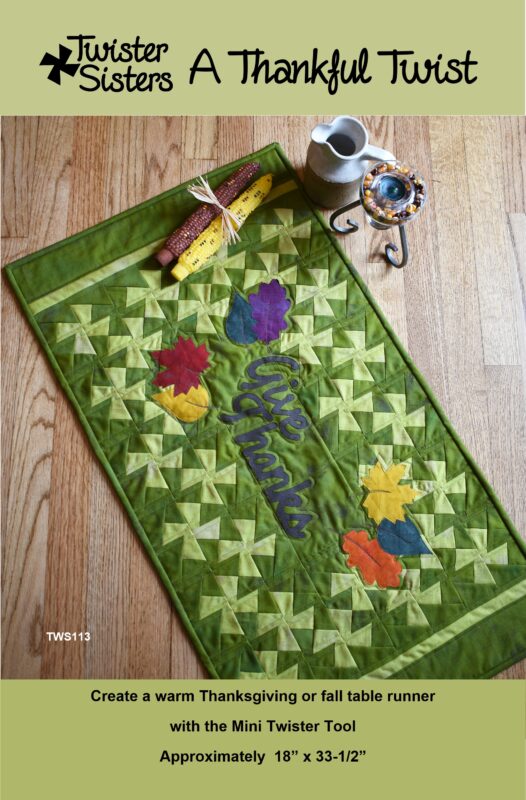 You can stitch it as shown on the front cover: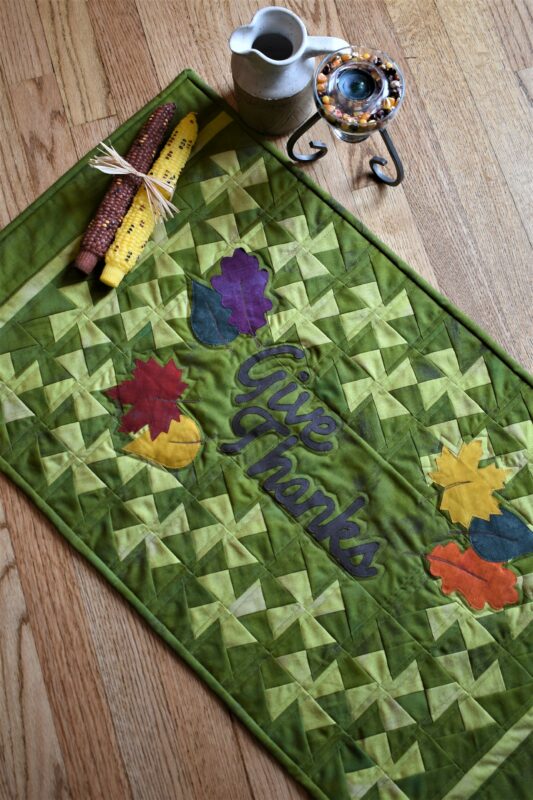 Or try a scrappy version featuring a variety of pinwheel colors, like this version Daryl sewed when she tested the pattern.  I love what she did with it and added in instructions for going scrappy in the pattern.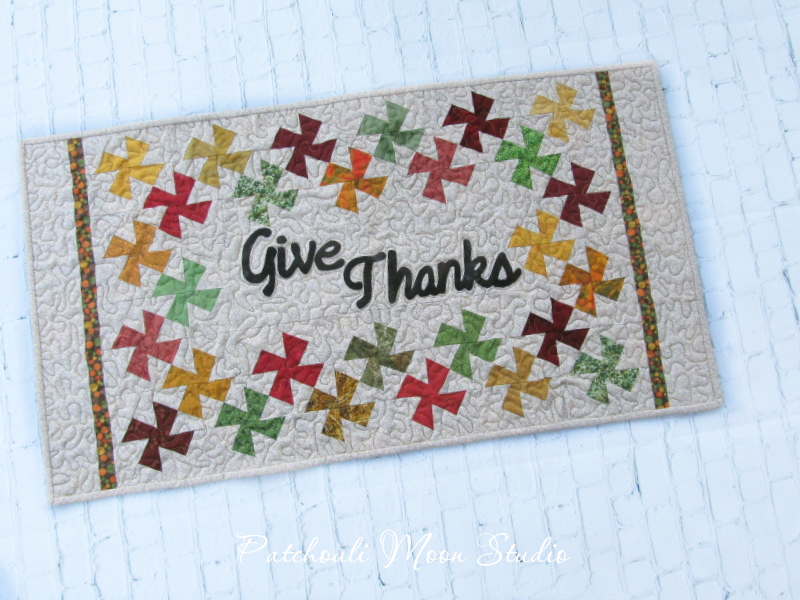 Jenniffer used wool for her leaves and "Give Thanks" saying to give it some added texture.  So pretty!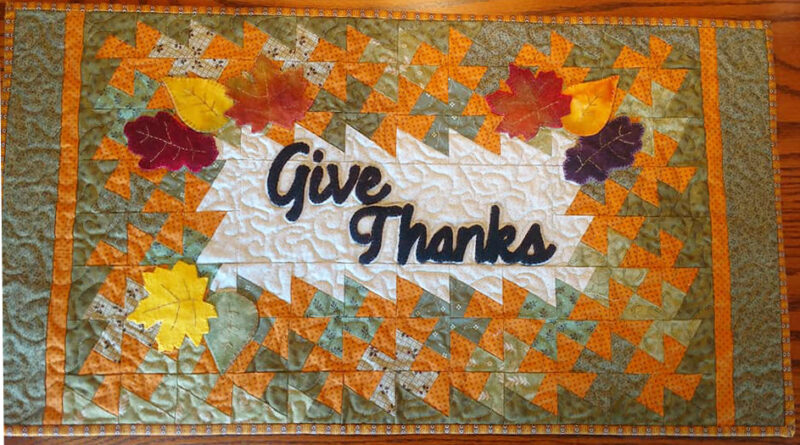 Joyce sewed hers up in batiks. Love this version as well!  It's so fun to see the variety, isn't it?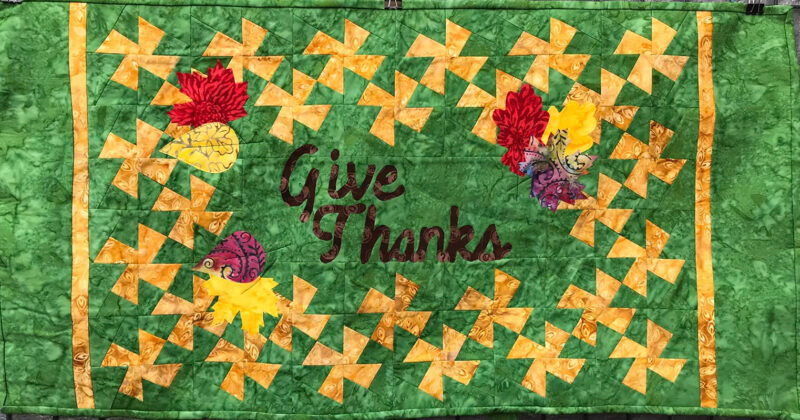 Marching into December, we have the Jolly Twister quilt pattern featuring a whimsical winter scene. Like Twister Treat, Marilyn's pattern creates quilts in 3 sizes, depending on which tool you use.  The Mini Twister creates a 34" x 43" quilt, the Lil' Twister creates a 45" x 57" quilt and the Midi Twister creates a 67" x 85" quilt. Isn't he adorable?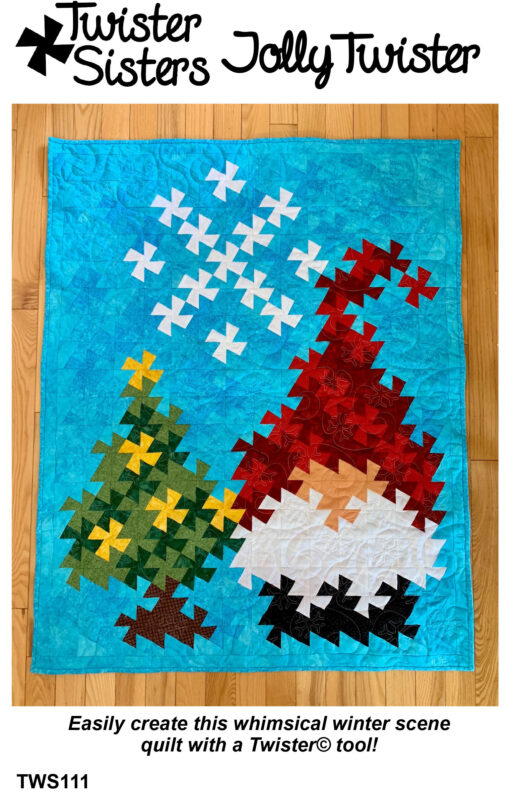 These patterns are available as paper patterns only at this time.  Ask at your local quilt shop or get yours in our shop store.  Free shipping through the weekend on all 3 of these patterns (Twister Treat, A Thankful Twist, Jolly Twister) as well as the Mini Twister, Lil Twister and Midi Twister, just use the coupon FREESHIP when you check out (coupon for U.S. only, good until midnight Sunday, June 16, 2019, CST).
Happy Twisting!
Lisa & Marilyn